Integrated Data Systems
Founded in 1993 by a handful of dedicated and talented computer professionals to provide turnkey solutions to different sectors in the market. At the moment IDS is one of the most reputable computer companies in Lebanon; It represents a foundation for success and growth.
The company offers consultancy services, hardware, software solutions, networking design and configuration, hardware and software maintenance, web hosting and design, focusing on small and medium enterprise in Lebanon.
IDS's key strength is its best quality equipment, good follow up and after sales service. IDS has a very strong market position and has established itself through years of experience and professionalism. Its customer base consists of government, schools, contracting and engineering, industry, trading and commerce as well as end users.
Mission Statement
We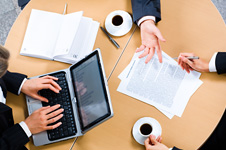 are keen to deliver our clients the highest quality of products and services; we strive to build long term customer relationships through quality, service, value, reliability, and high availability.
This is due to dedicated efforts of our highly professional team of sales, marketing, and engineers to provide a variety of solutions in the ICT industry.
Our Values
To provide our clients the most advance and cost effective solutions for their business needs, and provide the outstanding value with the products we offer.
Customer Service

A dedicated team of computer professions are always available to provide the best quality of support to insure a 100% customer satisfaction.
Availability

Trying to provide our clients the best pre and post sales solutions and support effectively and efficiently within a short time span.
Our Commitment
Commited to provide excellent support, we are the company you can rely on because we are your partner in computer solutions..